Online Event Registration Software: 7 Tips to Find Your Fit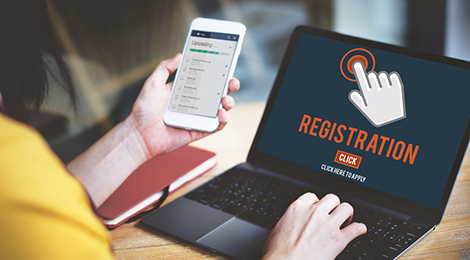 It's December and another year has blown past us faster than the Starship Enterprise.  It's often a time for reflection on what has been good and not so good and pondering ways to improve for the next year.  For event professionals such reflections can turn to reviewing event management practices and technologies used during the past year and deciding to keep them, upgrade them, or toss them out for something different.  One item that may be on this list is your online event registration software.
These days, most attendees expect to register for events online which means you'll need software that accepts online payments, manage attendee information and more.  Fortunately, there are many tools to help you, ranging from simple to sophisticated and all the way to multi-functional.  So many, in fact, that choosing one can be overwhelming.   Online event registration means different things to different people so the choice you make needs to work for what it means to you.  To decide what might be the online event registration software for you, ask yourself some relevant questions.
Online Event Registration Software:  What to Ask Yourself
When selecting an online event registration and management software, the first question many event professionals may ask is, "what is the best event registration software?"  That is probably the wrong question to ask because what is best for your competitor or the organization or company across town, may not be the best one for you.  Your decision needs to be based on what fits you and your needs and what answers your event planning "pain points."  Questions like:  How many events or meetings are you doing each year? What are your event registration priorities? For example, do you just need to get some basic online event registration capability up and going, or do you have more sophisticated requirements?  If you are charging a fee, how do you collect payments? Am I maintaining a database in which I need to collect attendee information?
And these are just a few questions regarding your event priorities.  Other considerations in choosing include:  What have been the painful event registration experiences that you want to avoid in the future?  What event practices do you want to stop doing?  How can you become more efficient?  The list could go on but it is really a list you need to create and ask yourself and your team when going through the selection process.
Online Event Registration Software:  What Are Your Event Priorities?
Since online event registration means different things to different people, companies, and organizations, so before you choose software decide what it means to you.  In particular, ask yourself:
Do you simply need a quick, inexpensive and easy way to do registrations for a few events per year? If you don't run many events, you may not need all the bells and whistles of a more complex, feature-rich online event registration system. But if you're planning to hold complex conferences, meetings, or other larger events, some sophisticated online event registration tools will help you manage such things as lodging, an event website, name tags, registrations for multiple sessions within the event, social media, check-in and much more.  This is where you cross the line from just dealing with simple event registration to actual event management and need help with juggling many balls at once.  If your event priorities have crossed this line, keep looking for a more sophisticated software fit.
How will you collect registration fees and other kinds of online payments too? If you are planning to support online donations, sell items, or take other online payments, it's worth considering software that will meet all your online payment needs.   Because anything which involves the exchange of money online, make sure whatever online event registration software service you use is compliant with data requirements set by the Payment Card Industry Data Security Standard (PCI-DSS) to ensure transaction security.  If you're just looking for something inexpensive and don't need elaborate features, PayPal might work well.  At an approximately 2.5% transaction fee, it's one of the least expensive ways to take online payments.  It doesn't, however, integrate seamlessly into your website and doesn't offer online event registration features like the ability to cap the number of registrations.  Companies and organizations with more technical experience could also consider PayPal's Pro system which offers better website integration.
Is integrating registrants into your database a key event priority? If you conduct a lot of events and meetings and attendees are key stakeholders for your company or organization, think through how you get registrant information into your database.  Consider integration methods or software systems that support not just online event registration but all your stakeholder management needs.  Does the software integrate with a CRM through data sharing or can it export data (as a .cvs or .xls file) that you can import to your database?  If you're conducting a lot of events, or want a clear view of how your stakeholders are involved with your company or organization, generally a more sophisticated integrated software system can be worth the investment.  So evaluate the functionality of your existing (or first being purchased) online event registration software and see if it is fitting your needs here.  If not, time to check other options.
Online Event Registration Software:  A Guide for Choosing
You and your team have asked many questions about your event planning needs and are ready to start the selection process.  What other things should guide your decision.  There are at least four other pieces to consider before getting our online event registration software.
Ease of Use. As when buying a car, take the online event registration software you're considering for a test-drive.  Getting a free trial so you can get the feel for the user experience and software design is important.  While the software may look good on paper (or in a demo with the software company people), it may not be that easy to use in the real world when you use it on your own.  You want software that is easy to use.  After all, the whole point of getting the online event registration software is to make your life easier and create a good experience for your attendees. And yes, good online event registration is part of the attendee experience.
Customer Support. Not much is more disconcerting than running into software problems at absolutely the worst time of your event and not having anyone to help you. This is especially if you're new to event planning software or suffer from tech anxiety.  When selecting your online event registration software, make sure the provider offer resources and guidance on how to successfully use the software to help you and your attendees.  Make sure you have a variety of options to contact them – phone, email, online chat.  Good customer service can define good software, especially in a crisis.
If you are doing a lot of events, or even if you're not but they vary in size, type or format, you really want to study the versatility of any software you are considering.  Consider choosing software that is capable of handling all your events and is easily scalable.  Having multiple software platforms to do different events is not only costly, it is inefficient and confusing.  Then there is the learning curve for you and your repeat attendees.  Why do that to yourself… and them.  Go for the versatility in a single software that can work across all events.  Make life easier and less chaotic.  It's worth it.
Quality of Features. There's the old adage, "it's quality, not quantity" and it's important here.  If you get both characteristics in a software, great but let's keep the eye on the quality of features.  As a busy event professional, you need a number of features in order to successfully plan and execute your events and meetings.  However, don't get caught up in the comparison shopping too much.  Pay attention to the quality and richness of the features.  Make sure the functionality is there.  Look for features that are easy to use and that can actually help you achieve event goals and provide your attendees a good user experience.
Online Event Registration Software:  rsvpBOOK Fitting Your Needs
So you're searching for online event registration software to fit your needs.   rsvpBOOK can be your fitness savior.  We can provide you a smart, simple online event registration and event management software to save time, save money and allow you to work more efficiently to get things done right and on time in this era of increasing constraints but high expectations.  And, the versatility of rsvpBOOK online event registration software meets your needs no matter the event type or size, from professional training meetings and workshops to large conferences.
Our powerful software brings together all the online event registration and management, marketing, onsite check-in, evaluation and attendee feedback reports, databases integration, online payment processing tools you need into a single place. We help you streamline your event processes from beginning to end.  And if you need us?  We're here for you via phone, email, or online chat.
rsvpBOOK has you covered so your event can manage itself.   Smart. Simple.  Efficiently.
Save you time and money, so you can use it to take care of more demanding matters and focus on what's important – creating the best event and valuable attendee experience imaginable.
Come try us at www.rsvpBOOK.com  Work smarter, not harder.  Start with our FREE trial today!