Pay Per Click – 3 Tips for Marketing Your Event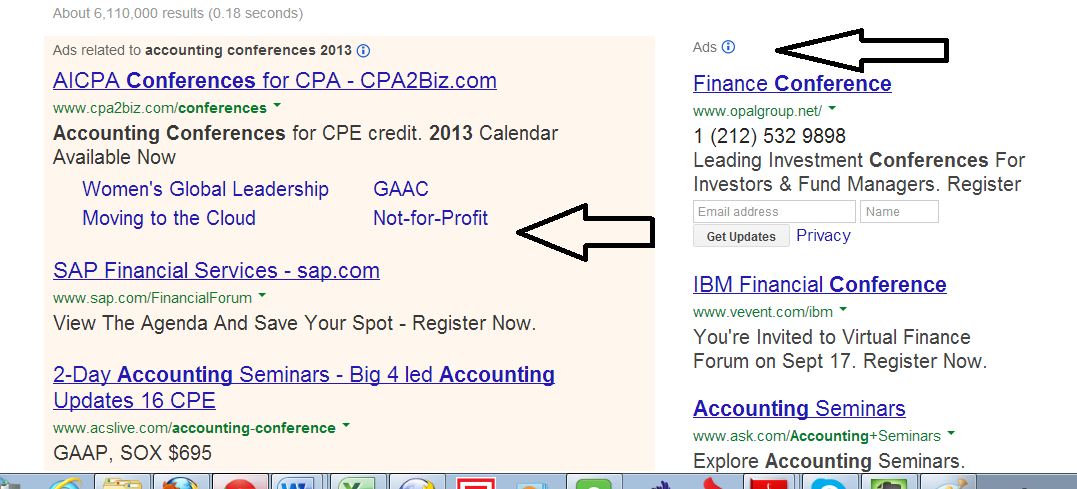 There are several platforms available for marketing your event. There is social media, there is offline marketing, there is group marketing but sometimes you may need to pay for ads and one of the more popular ad platforms is pay per click(PPC).
Online, there are several different ways to market online including banner ads, placements, mobile ads but one of the most popular is pay per click (PPC). With pay per click ads, you only pat when a viewer clicks the ad and goes to a landing page that sells the event.
There are several PPC platforms, each has advantages for marketing, you can use one or all to market your event.
Linkedin.com ads can be targeted toward a specific business professional demographic. Facebook ads can also be targeted but to a broader demographic other than just business professionals.  Google ads can be targeted towards a wide variety of potential attendees including on their search engine results page which is the most popular and the method shown in the image.
Tips for PPC Marketing
Here are some tips for making PPC marketing easier and more effective.
Be clear about your goal. What is the goal of the campaign? Is the goal to collect names and emails for future marketing? Is the goal sales? Whatever the goal, it's important with PPC that you are clear. Remember you are paying per click, so being clear about what happens after they pay is very important.
Write effective ad copy. PPC ads are short; the typical ad is a total of xxx characters including xx for the heading and xxx for the ad copy and web address. So the ad copy has to get to the point quickly. The ad copy must compel an interested viewer to click on the ad.
Write effective landing page copy.  After the viewer clicks on the ad, they land on the landing page. The landing page copy is the sales copy for an action so it must be specific and compelling.
PPC marketing can be an effective tool for marketing your event, but they require that you follow the tips listed above to be effective.
[hs_action]